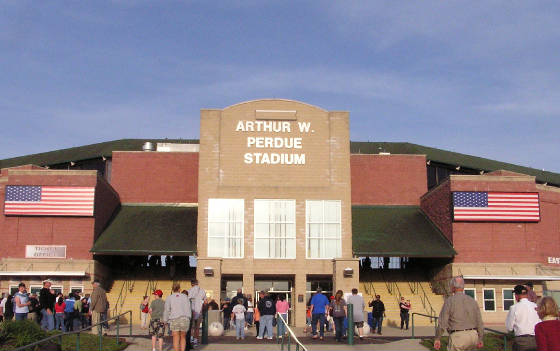 TEAM ::: DELMARVA SHOREBIRDS
LOCATION ::: SALISBURY, MARYLAND
MY FIRST GAME ::: APRIL 27, 1997
OPPONENT ::: SAVANNAH SAND GNATS
LEVEL ::: SOUTH ATLANTIC LEAGUE 'A'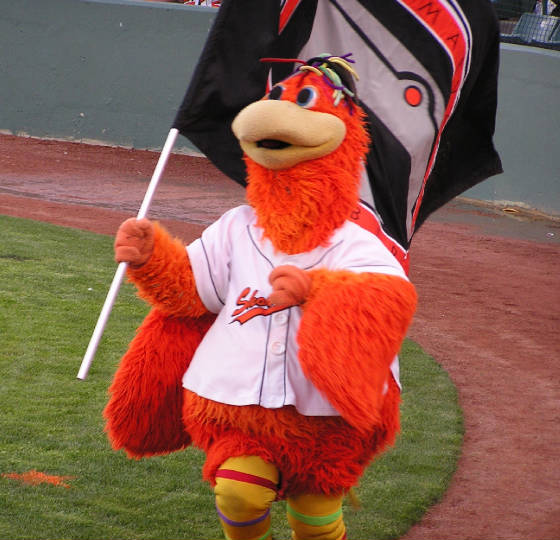 RATINGS
BALLFIELD ::: B
SCOREBOARD ::: B
FACILITIES ::: A-
MASCOT ::: B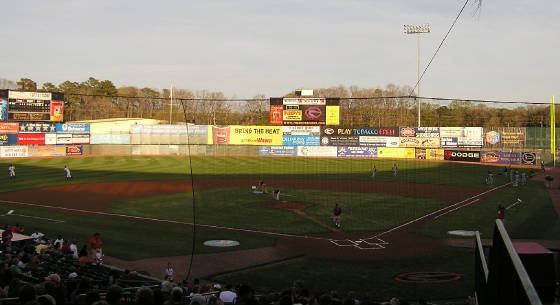 MY TAKE ON THE PARK
Located in the city of Salisbury, Maryland is Arthur W. Perdue Stadium. I made my first visit in 1997 to this park and found it to be a comfortable place to see a game, but very crowded. It took a few years to get back but upon my return I found that not much had changed, even with the crowds that is a very good thing.
Located on Hobbs Road, (always reminds me of the movie "The Natural") Perdue Stadium offers a large parking lot for fans, it should be noted that there is still only one way into the lot which for the Shorebirds means there will be a wait the closer you get to game time. $3 grants you access to the ample sized lot, which even on fireworks nights is sufficient to handle the big crowds. What has improved here is they have a special fireworks exit. Eliminates the long parking lot wait after the game and sends you on a little road trip around Salisbury.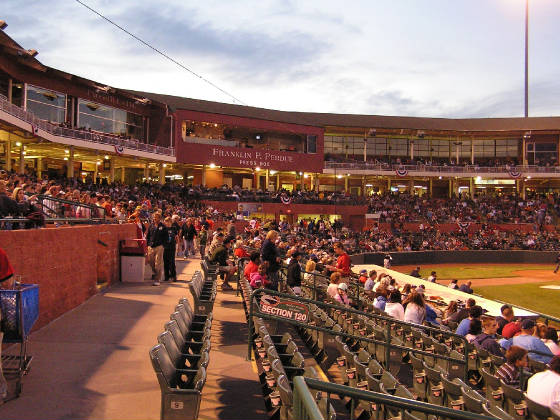 Once past the ticket take, you climb a set of stairs that bring you to the upper concourse area. Much like Trenton, this area is your one stop location for all food and facilities. Along the left field line of the concourse is the Shorebirds Merry-go-Round.
There are two levels of seats here, field and reserved separated by an aisle below the reserved seats. Behind the field seats is a small concession located behind home plate.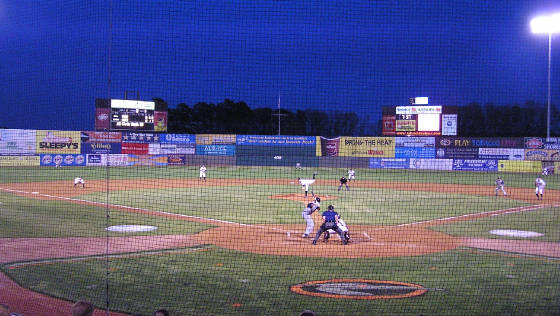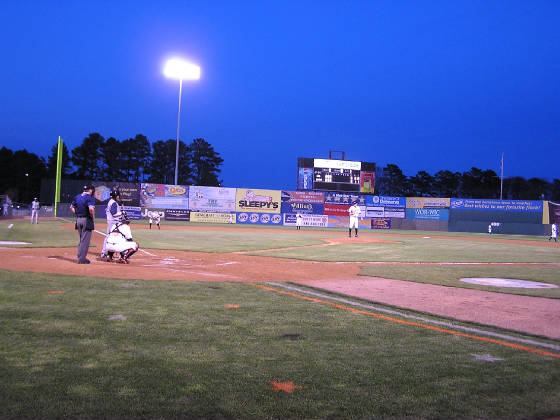 The game here has been handled the same since my first visit in '97 however, the scoreboard now looks a bit dated. Coming from all of these new and modern ballparks it is a surprise to see a scoreboard just give the line scores and another board with just statistics.
Arthur W. Perdue has a lot of good fans which make the game exciting and being an Oriole affiliate, the players in Delmarva today will be less than 2 hours away in Baltimore someday.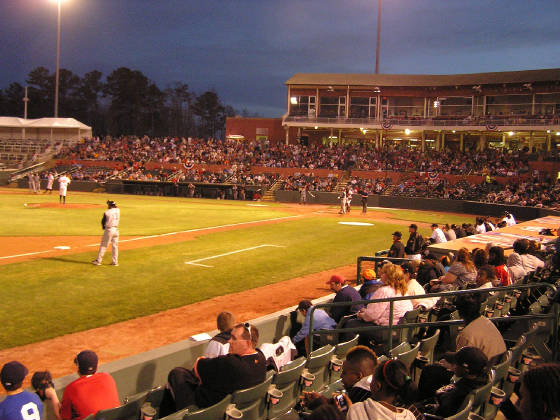 One other thing about the Shorebirds, they put on a very good fireworks show. I don't usually go to fireworks nights due to the excessive crowds but considering Delmarva seems to have fireworks night every week it is tough to schedule around one. Even though there will be a less than used to be wait at the end of the game, it is one you should stick around for.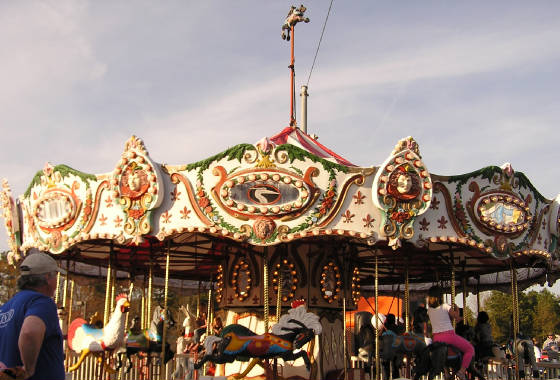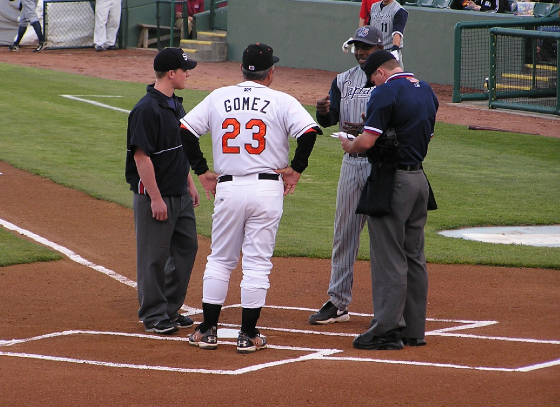 THE LINE UPS
SAND GNATS MANAGER :::
JOHN SHELBY

SHOREBIRDS MANAGER :::
TOMMY SHIELDS
SAVANNAH SAND GNATS
34 Peter Bergeron cf
36 Damien Rolls 3b
23 Nick Leach 1b
40 Jeff Bramlett dh
48 Eric Brown rf
37 Brett Illig ss
43 Cash Riley lf
44 Travis Meyer c
20 Trent Cuevas 2b
52 Jay O'Shaughnessy p
45 Craig Allen LP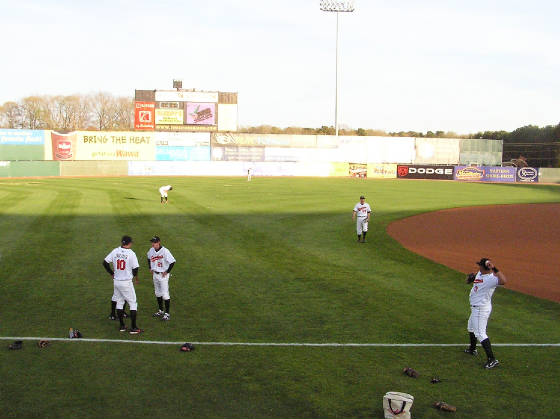 DELMARVA SHOREBIRDS

33 Bartt Carney rf

12 Carlos Casimiro 2b

42 Calvin Pickering 1b

44 Ryan Minor 3b

28 Eric Chavez dh

4 Evanon Coffie ss

23 Charles Alley c

19 Maleke Fowler lf

24 Darrell Dent cf

34 Chad Paronto p

29 Gabe Molina WP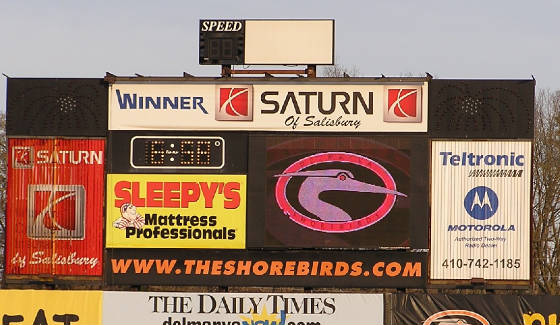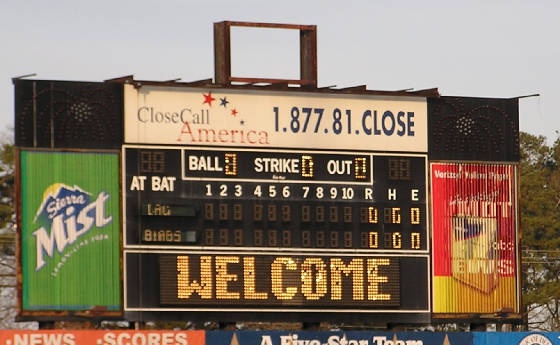 SAND GNATS 002 100 000 0 3 7 4
SHOREBIRDS 011 000 010 1 4 5 2

TIME ::: 3:09
ATTENDANCE ::: 4,253
WEATHER ::: 68, CLEAR
SEND ME AN E-MAIL

LINKS
The Official site of the Delmarva Shorebirds
Salisbury weather from WEATHER.com
Site last updated :::

© 2000-2012 UNCLE BOB'S BALLPARKS
I AM IN NO WAY AFFILIATED WITH ANY OF THE TEAMS ON THIS PAGE ... THIS
PAGE IS MEANT FOR INFORMATION PURPOSES ONLY.